✧ Star Fish ✧
Staff Emeritus
Rainbow Rocket Grunt
Join Date

Oct 28, 2018
Posts

534
Location

Kansas
AKA

Kaity and Bijou
Gender

Female
Time Zone

GMT -6
3DS FC

3840-6615-2879
IGN

Kaity, Bijou, Lapis, or Lazuli (depends on the game)
So I found this personality quiz that was pretty fun to take. Follow the link below and post your results and discuss if you want!
[link to the quiz]
(keep in mind that at the end of the quiz, an email is required)
​
What is the color code? (Description taken from the Colorcode website)
"Life can be puzzling. People can be puzzling. But above all, your relationships can be most puzzling. Let's face it: All life is about relationships: personally, professionally, and socially.

Do you wonder why some people are so easy to love, work for, and befriend, while constant effort is required to build and maintain a healthy relationship with others? What part do you play in making the relationships in your life work?

Every relationship begins with YOU. Who are you? Do you really understand why you think and behave as you do? Imagine the power of truly knowing yourself, what motivates you, and how you impact the relationships in your life."
What does each color mean?
Each color represents your core motive in life.



Red (Motive: Power):

Red are the power wielders. Power: the ability to move from point A to point B and get things done is what motivates and drives these people. They bring great gifts of vision and leadership and generally are responsible, decisive, proactive and assertive.


Blue (Motive: Intimacy):

Blue are the do-gooders. Intimacy: connecting, creating quality relationships and having purpose is what motivates and drives these people. They bring great gifts of quality and service and are generally loyal, sincere, and thoughtful.


White (Motive: Peace):

White are the peacekeepers. Peace: the ability to stay calm and balanced even in the midst of conflict is what motivates and drives these people. They bring great gifts of clarity and tolerance and are generally kind, adaptable, and good-listeners


Yellow (Motive: Fun):

Yellow are the fun lovers. Fun: the joy of living life in the moment is what motivates and drives these people. They bring great gifts of enthusiasm and optimism and are generally charismatic, spontaneous, and sociable.
You have to answer each question based on how you were as a child. This is why. (description taken from that same website)
"The Color Code Personality Model is motive-based. Most other popular personality assessments are behavior-based. The difference between the two is that the Color Code goes deeper--it explains why you do what you do (motive) rather than just identifying what it is that you do (behavior).

The Color Code theory is that each of us has a Driving Core Motive--the reason why we do everything we do in life. Our Driving Core Motives are innate--they came with us at birth. That is why we advise you to take the profile from your earliest childhood memories of yourself; the theory being that that is when you were truest to your Driving Core Motive, before outside influences began affecting your behaviors.

For most people, their "childhood self" is the easiest way to identify how they naturally are. The profile is designed to be taken from the earliest recollections you have of yourself. The idea is for you to complete the profile considering yourself before you were influenced by outside factors. We want to identify what your personality was before you felt pressure to be a certain way, learned to value some characteristics more than others, etc. For most people, the easiest way to do that is to think of themselves as a child--before they were really aware of their personalities. If you had a difficult time answering from your childhood perspective, we would recommend that you answer thinking of yourself at a time when you've been most comfortable with yourself--when you felt you were being truest to yourself, instead of acting how outside influences wanted you to act."
~~~~~~~~~~~~~~~~~~~~~~~~~~~~~~~~~~~~~~~~~~~~~~~~~~~~~~~~~~~~~~~~~~~~~~~~~~~~~~~~~~~~~~~~~~~~~~~~~~~~~
My results? I am a blue.
Description:
Blues are motivated by Intimacy. They seek to genuinely connect with others, and need to be understood and appreciated. Everything they do is quality-based. They are loyal friends, employers, and employees. Whatever or whomever they commit to is their sole (and soul) focus. They love to serve and give of themselves freely in order to nurture others' lives.

Blues have distinct preferences and have the most controlling personality. Their personal code of ethics is remarkably strong and they expect others to live honest, committed lives as well. They enjoy sharing meaningful moments in conversation as well as paying close attention to special life events (e.g. birthdays and anniversaries). Blues are dependable, thoughtful, and analytical; but can also be self-righteous, worry-prone, and moody. They are "sainted pit-bulls" who never let go of something or someone once they are committed. When you deal with a BLUE, be sincere and make a genuine effort to understand and appreciate them.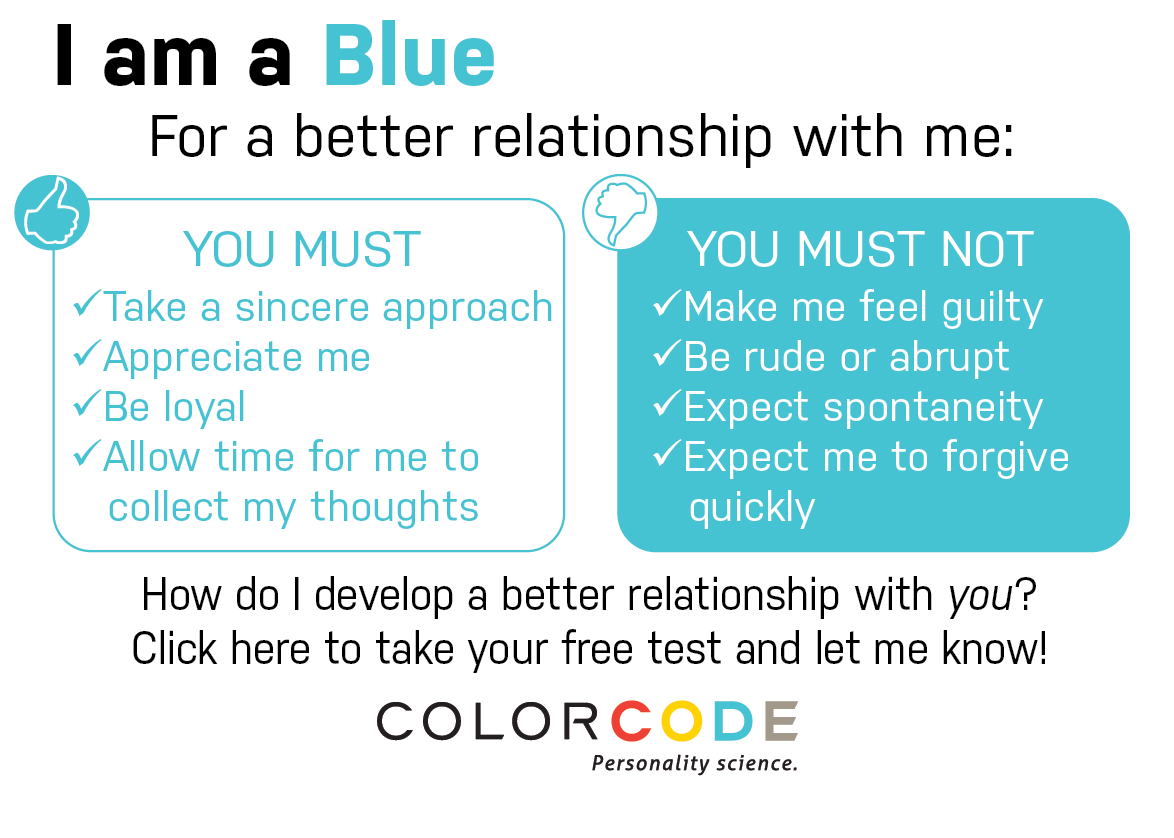 ~~~~~~~~~~~~~~~~~~~~~~~~~~~~~~~~~~~~~~~~~~~~~~~~~~~~~~~~~~~~~~~~~~~~~~~~~~~~~~~~~~~~~~~~~~~~~~~~~~~~~~~~~~~~~~~~~~~~
So how about you all?
Last edited: