Wound in the Force
Staff Emeritus
Join Date

Oct 28, 2018
Posts

645
Location

Malachor V
AKA

Ravey, Steve
Gender

Male
Time Zone

US Central Time
Pokémon GO: Trainer Codes​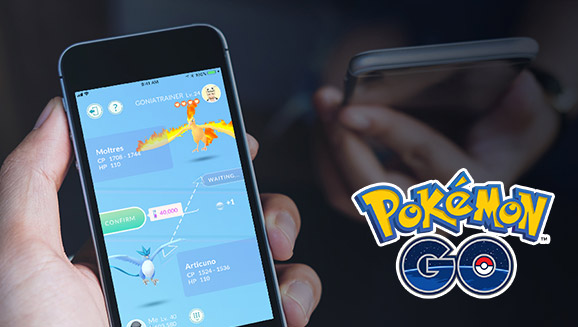 Picture credit to the official Pokemon website​
It's been
3,000
2 years, and trading has come to Pokémon GO! But trading itself is just part of a smaller feature: friends! With friends, you can send and receive gifts from Poké Stops and Gyms that they have spun. From these gifts you get a postcard with a picture of the Poké Stop image and name, and you can get helpful items like Max Revives and Hyper Potions, as well as eggs that take 7 km to hatch and contain Alolan variants of Pokemon!
Being friends with someone also allows you to trade Pokemon with them, if you are within 100 meters of your friend. While that is not a feature that most of us will be able to use with each other, being friends is still fun because you can send and receive gifts with friends.
How to add Friends in GO
​
1. Go to the profile tab by clicking your avatar in the bottom-left corner of the screen.
2. Swipe to get to the "Friends" tab. Then, click "Add Friend".
3. Your Trainer Code will appear on the screen. If you will add someone as a friend before they add you, proceed to the next step. If your friend will add you first, proceed to Step 5.
4. Type in your friend's Trainer Code in the box above your trainer code. Then submit it and a friend request will be sent.
5. Your current friend requests will be listed in the "Friends" tab. You can view and either accept/decline the request from someone without entering their Trainer Code if they have sent you a request.
6. You are now friends in-game with your friend!
7. You can send/open gifts through the "Friends" tab. You may only keep 200 friends in your game. You may delete friends at any time.
Some Notes

AND WARNINGS

about Gifts
​
1.
FAIR WARNING: POSTCARDS AND EGGS OBTAINED FROM GIFTS WILL BE LISTED AS HAVING BEEN OBTAINED FROM THE LOCATION OF THE POKE STOP
. For example, if I send Bluejay a gift obtained from a Poke Stop in San Diego, CA, he will know that I got the gift to send from San Diego. The bottom line is,
if you do not want your city known to someone on the forums and you do not travel a lot, do not add them as a friend.
2. Going off of that last sentence, you can decline friend requests that people send. So you can add your close friends from the forums and decline everyone else if you so wish.
3. You must be LEVEL 10 or higher to use this feature!
4. You can only carry 10 gifts in your bag to send to people at any given time.
5.
YOU MAY OBTAIN A NEW TRAINER CODE ON THE "ADD FRIEND" SCREEN AT ANY TIME.
This will NOT remove your current friends.
1. ONLY POSTS CONTAINING YOUR TRAINER CODE AND/OR TRAINER NAME ARE ALLOWED IN THIS THREAD. If your post says ANYTHING along the lines of "added" or "sent friend request" or "sent gift" or "send me gifts", your post will be deleted. We want to keep this thread clutter-free!
2. If someone declines your request, please do not be upset!
3. If you want someone to know you sent them a gift or received a gift from them, do it over PM!
So what should my post look like?
​
Below is an example of what a post can look like in this thread. Feel free to follow the layout or be creative though!
Trainer code (this example is NOT real): 1029 3290 3292 8013
Trainer Name (optional but recommended): Mike R. Sonfire
Would you rather add people or have people add you? I don't care.
And that's it! After you've added friends, get up and GO find some gifts!